200HR Teacher Training
Full Course Overview incl tuition upon application
AM I READY..?
You may be wondering, "Am I ready? Is my practice good enough to do this? Am I strong enough?" We know that some studios require you to be able to perform certain postures flawlessly before you can apply. That's just not us!
Welcome to Flow Space Teacher Training. We are here to expand your potential!
We look at passion, compassion, commitment to learning and living consciously and the desire to share the practice much more than a person's physical abilities.
We realized early-on that, if we excluded people based solely on their physical practice or experience-to-date, we would have kept a lot of amazing people with soaring spirits out of the program, so we decided not to set arbitrary posture requirements that really tell us very little about a person's ability and desire to become a great teacher.
What if I don't want to Teach..?
We pride ourselves on producing the highest quality Teachers BUT we equally understand that your interest in this course may have nothing to do with Teaching yoga. Instead, you may be seeking a deeper, richer understanding of YOU and how Yoga can assist you in your life both ON and OFF the mat.
Our teacher training programme is a powerful catalyst for personal transformation. Dive deeper into your practice, confront beliefs that hold you back, and discover your authentic self. Training with Flow Space will help you unlock the best of you and equip you with everything you need to be a strong and confident individual or teacher if you choose to take that path.
You'll learn from passionate and highly experienced teachers, imparting wisdom from their years of teaching yoga. We deliver a comprehensive, empowering programme, equipping students with the confidence and know-how to start teaching yoga with joy and authenticity as well an opportunity to live into the highest version of themselves.
About the Course..?
This course looks deeply into what it really takes to be an effective teacher including the technical knowledge required to deliver a safe and powerful class as well as deliver a class with a language that speaks to the very heart of students inspiring and motivating them to transform their lives!
Our course will cover traditional history and teachings, modern day sequences, anatomy and physiology, world class teaching skills like the development of the voice, and asana in depth. In addition, there is a weeklong retreat focusing on personal development, practice teaching and giving feedback, and an assisting program focusing on hands-on techniques run over a three-day weekend.
So, whether you are looking to teach or to deepen your knowledge of yoga, Flow Space's comprehensive Teacher Training program will give you the tools to do so. Each of our programs are created in alignment with the Yoga Alliance guidelines so upon completion of the program, you will be able to register as a 'Registered Yoga Teacher 200hr' with Yoga Alliance.
We look forward to supporting you on your journey ahead!
As they say, "When one Teaches – two learn."
Logistics
This is a part time course that runs over two months. With life becoming so hectic these days, accessibility has always been important to us and hence we've created this course to allow those with family and work commitments to equally part-take without the need to take extended time away.
Our Flow Space Teacher Training is registered with Yoga Alliance so upon completion of this course graduates will receive a Yoga Alliance 200hr certification that grants access to Teach anywhere in the world!
We also limit the number of students in each training to make sure you receive one-on-one guidance.
If you're passionate – you're ready!
If you're waiting to handstand you'll never start…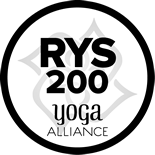 COURSE OUTLINE
TECHNIQUE / TRAINING / PRACTICE
Master a strong and balanced Vinyasa Yoga sequence. Gain a comprehensive understanding of traditional yoga techniques including Pranayama, Bandhas and Meditation. Learn how to apply these essential techniques into your practice and teaching.
TEACHING METHODOLOGY
Learn how to put together a mind-blowing class for your students. Master sequencing, delivery, precise hands-on adjustments and how to bring an authentic and inspiring theme to your yoga classes. With teaching practice, direct feedback and coaching from the get-go, this course ensures you will walk into the yoga world bursting with knowledge and confidence.
ANATOMY AND PHYSIOLOGY
Delve into anatomy and become inspired by the human body. Learn how to read students' bodies, and how to confidently assist and direct individuals based on their body's needs and limitations.
YOGA PHILOSOPHY, HISTORY AND TRADITION
Study yogic history and tradition to discover ancient teachings that are remarkably relevant in today's reality. Develop and deepen your understanding of the philosophical texts that underpin the practices.
PROFESSIONAL ASPECTS OF YOGA TEACHING
Discover how to take your teaching beyond the training and make Yoga a successful career. Learn how to establish a professional and ethical framework from which to teach.
COURSE DETAILS
2020 DATES
February 6th – 9th | We begin…
February 20th – 23rd | Techniques, Philosophy and Teaching Methodology
March 15th – 21st | Bali Immersion Retreat
April 3rd – 5th | The Art of Assisting
April 17th – 18th | Exam Weekend
LOCATION
Flow Space Perth Studio – 158A Vincent Street, North Perth
COSTS
Click 'Enquire Now' above for a full course overview including associated costs. Your tuition includes all modules and the Bali Retreat Immersion accommodation and meals (excludes airfare and transfers).
Payment plan available upon request.
Early bird discounts available. Contact us for more details. T&Cs apply
A DAY IN THE LIFE
7:00AM – 9:00AM
Yoga asana practice
9:00AM – 10:00AM
Break
10:00AM – 1:00PM
Workshops and theoretical lessons
1:00PM – 2:00PM
Break
2:00PM – 5:00PM
Breakdown of asana techniques and teaching